Veterans and Military Personnel are invited to explore their opportunities at this Expo on April 11!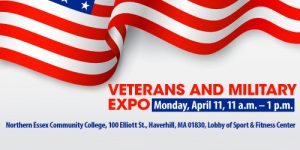 NECC invites you to join in the first Veterans and Military Expo focusing on educational and career opportunities as well as veterans services:
Monday, April 11
from 11 a.m. to 1 p.m.
Sport & Fitness Center, lobby on the Haverhill campus
Representatives from Northern Essex, Northeastern University and UMass Lowell will be available to review educational options and resources available to veterans and active military personnel.
Human resource representatives from Renewal by Anderson, Sig Sauer, UPS, ValleyWorks, and Verizon will discuss employment possibilities, and professionals from the Lowell Vet Center and the Veterans Integration to Academic Leadership (VITAL) program which works to help veterans succeed in college and inform them of the programs and resources made available by the VA, will be on hand to review veterans services.
Resume reviewers will be available for student veterans and military connected students for 15 minute spots throughout the event.
Space is limited for resume reviews, so please email engagement@necc.mass.edu to sign up for a slot in advance, or feel free to contact Dina Brown at dbrown@necc.mass.edu by April 8th for more information. She can be reached at 978/556-3732.
This event, which is free and open to all veterans and veteran personnel, is sponsored by NECC's Veterans Services and Veterans Council.
Please feel free to share this with fellow Veterans and Military Connected individuals. We hope to see you there!
We welcome individuals requesting sign language interpreting and other access requests (including food related allergies), questions or for more event information, please contact the host of this event, the Veterans Council via engagement@necc.mass.edu or 978/556-3732.