Team Haverhill Launches 10 for 10 – 10 Small Projects for 2015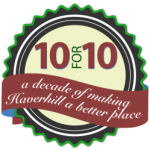 Team Haverhill announced that it is celebrating its first decade of making Haverhill a better place. To mark the occasion, Team Haverhill is partnering with individuals or community groups to complete ten small service or beautification projects that will make a difference in the city of Haverhill. The projects should be completed in one day and within 2015. Team Haverhill will provide up to $150 in funding.
The organization is soliciting ideas for "10 for 10" projects. Working with a community partner is encouraged, but not required. The individual or group must participate in their proposed project. Projects will be supported by an active group of Team Haverhill volunteers anxious to celebrate the city in every neighborhood – and in any way imaginable!
Applications and more information are available at 10for10@TeamHaverhill.org. The deadline for submittal is February 1, 2015 and successful applicants will be notified after February 15, 2015. Completed proposal applications should be sent by the closing date to: Team Haverhill (10 for 10 Projects), P.O. Box 5034, Haverhill, MA 01835 or 10for10@TeamHaverhill.org (Electronic submission is preferred). For more information, please contact: Lisa Marzilli, 10 for 10 Chairperson, 978-374-5962 or 10for10@TeamHaverhill.org
About Team Haverhill
Team Haverhill is an independent, volunteer action group dedicated to making Haverhill a better place to live, learn, work and play. We pursue this purpose by fostering civic dialogue, organizing hands-on projects, creating a more informed public, and advocating for positive change. Team Haverhill is a 501(c)(3) nonprofit organization serving Haverhill, Massachusetts.