SERVPRO® Honors Local Business for Outstanding Revenue Performance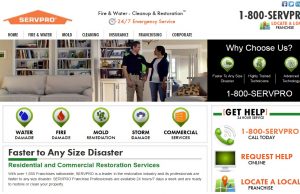 SERVPRO®, an industry leader in disaster cleanup, restoration and remediation services, recognized David & Maureen Hart and Patrick & Michelle Lavigne of SERVPRO of Haverhill/Newburyport with the CHAIRMAN'S Bronze award for outstanding revenue performance. The Awards event took place at the company's 46th Annual Convention, held July 6 to July 10 at the Hyatt Regency Chicago. The event attracted a record-setting group of more than 2,700 Franchise  owners and key employees.
"Winning this award requires a partnership between the dedicated team at SERVPRO of Haverhill/Newburyport and our franchisor SERVPRO," said David Hart, SERVPRO of Haverhill/Newburyport owner. "We contribute by working hard to earn the trust and respect of home and business owners in our community. SERVPRO backs us up by providing us with the tools, training and knowledge to help us maintain our leadership position in our industry. Together, we are ready at a moment's notice to step in with the highest level of professional assistance when disaster strikes."
SERVPRO is an industry leader in disaster cleanup, restoration and remediation services. Their convention program this year featured 54
workshop sessions covering 29 different topics along with a motivational Keynote address by Jon Gordon. The focus of the program was to bring SERVPRO owners and key staff up-to-date on the most advanced disaster mitigation solutions available and to provide them with insights on building and maintaining successful businesses.
"On behalf of Servpro Industries, Inc., I congratulate all of our award winners on a successful year," said Servpro Industries, Inc., Chief Executive Officer Sue Steen. "SERVPRO's reputation as an industry leader in disaster cleanup is earned and enhanced each day by individuals like these. We are proud of both their contributions to their communities and their success as business people. Through events like our annual Convention, we will continue to provide our dedicated business owners and team members with the latest industry and peer group knowledge, innovative tools and corporate updates to help them build their businesses and provide world-class service to their customers."
For more information about SERVPRO of Haverhill/Newburyport, please contact franchise owner David Hart at (978) 374-8555 or ServproHaverhill@aol.com or visit www.SERVPRO.com.