Rick Springfield "Stripped Down" at Blue Ocean Music Hall
Rick Springfield "Stripped Down" | Thursday, April 16, 2015 | 8pm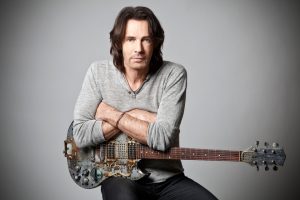 For all of his accomplishments as an actor, best-selling author, and documentary subject, Rick Springfield's first love has always been music, a passion he's harbored since first picking up the guitar at the age of 12 in his native Australia.   With 25 million records sold, 17 top-40 hits, including Don't Talk to Strangers, An Affair of the Heart, I've Done Everything for You, Love Somebody and Human Touch, as well as a 1981 Grammy® for Best Male Rock Vocal for his No. 1 hit single "Jessie's Girl," Springfield shows no signs of slowing down. "I put everything I've got into making records," he says. "Sometimes people may think they have you pegged but I trust the music to speak for itself."   Never one to be confined to the recording studio where the music is born, Springfield has toured for over 30 years, hand-delivering the hits to millions of fans worldwide via his dynamic live shows. His concerts are legendary with their rock heavy, high energy full band sets. However, in fall 2013 Springfield felt it was time to expand his live performance options. Hence the solo "Stripped Down" tour was created to bring an intimate yet lively performance to fans.
Immediately following the show, Springfield hosts an intimate Q & A session with the audience to offer a special, memorable and personal experience for the audience, taking the evening beyond the standard rock concert.
Reserved Table Seating: $39.50 – $69.50 | Best Seats including a Meet & Greet with Rick Springfield: $225 (There are no assigned seat numbers at the table; seats are first come, first-served.) + $3 additional on Day of Show. SEATS AT EACH TABLE ARE NOT ASSIGNED. SEATS ARE FIRST-COME, FIRST-SERVE AT THE TABLE(S) YOU ARE PURCHASING.