Pentucket Bank Names Scott Cote Chairman, Chief Executive Officer and Chuck Walker President, Chief Credit Officer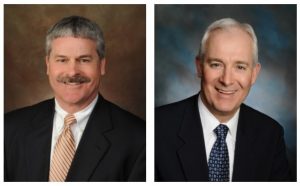 As Pentucket Bank enters its 125th year in 2016, its Board of Trustees has elected Scott Cote as Chairman of the Board and he remains as Chief Executive Officer and Chuck Walker has been promoted to President in addition to his current role as Chief Credit Officer.
"As Pentucket Bank looks forward to its 125th year, we will continue our dedication to our customers, to the communities we serve, and to our employees." Scott Cote stated. With over 43 years of experience, Scott has an extensive background in administration, commercial and consumer lending, branch operations, marketing, strategic planning, finance and community support. Scott joined the Bank in 1998, was appointed President in 2008 and named Chief Executive Officer in 2010. Scott Cote assumes the role of Chairman, most recently held by Kendall Smith. Ken will continue to serve on the Bank's Board of Trustees.
Scott Cote also stated, "We are pleased to announce Chuck's appointment as the twelfth President of Pentucket Bank and look forward to his leadership pursuing shared goals and building relationships within the market." Chuck Walker had been employed by Pentucket Bank as Vice President, Commercial Loan Officer from 2002- 2005 and in 2010 Chuck rejoined Pentucket Bank as Executive Vice President and Chief Credit officer, successfully leading the Bank's lending team. Chuck has over 36 years of banking, commercial lending and relationship management experience that has proven to be instrumental in the Bank's growth and success. According to Scott Cote, "Chuck is a great collaborator who has an engaging personality, great team building skills and sound business acumen and talent. He has been a key contributor in helping to grow the Bank's lending and retail business lines." Scott continued, "I look forward to Chuck's continued contribution to the Bank's community outreach efforts."
Established in 1891, Pentucket Bank is a mutually-owned community bank with assets of $650 million and branches in Haverhill and North Andover, Massachusetts and Salem and Hampstead, New Hampshire. Pentucket Bank has been recognized by Forbes Magazine as one of three New England based community banks that are making a difference, by Banking New England Magazine as a bank that is committed to revitalizing the communities that it serves, and is a five time recipient of The Boston Globe's Top Places to Work. Pentucket Bank is the leading bank in Haverhill, one of the fastest growing banks in New Hampshire and North Andover, and a Top Lender recognized by the Small Business Administration.