Pentucket Bank Awards Two Employees Annual Community Service Award
Scott D. Cote Sr., President & CEO and the Senior Management Team of Pentucket Bank awarded two employees the Annual Community Service Award during the Bank's 124th Annual Meeting on March 12, 2015 at DiBurro's Function Facility in Ward Hill, MA.
Pentucket Bank is well known, not only for its corporate generosity within the communities in which they are located, but for the significant number of volunteer hours that their employees contribute to local non-profit organizations and other community projects and events. In 2014 the Bank contributed over $400,000 in financial support into the community and Pentucket Bank employees logged over 5,500 hours in volunteer time. Annually the Bank reviews the community service activities of their employees and selects two people with exceptionally noteworthy involvement.
Kerri Anne Godin, Assistant Vice President and Senior Branch Manager of the Bank's Main Office was selected as the Officer Award recipient for 2014. Kerri's activities include serving on the Board of Directors of the Haverhill YMCA and currently serving a year term as the President of the Haverhill Exchange Club. Kerri is also involved in the Haverhill Relay for Life, Kidsfest, and The Greater Haverhill Chamber of Commerce, to name a few.
Patrice Darby, a Teller at the Bank's Merrimack Street Branch was also selected. Patrice has been with the Bank for three years and is an active volunteer with the Open Hand Food Pantry in Haverhill, the Relay for Life, Rebuilding Together with Christmas in April and volunteers at her church, Saint James Parish in Haverhill.
Pentucket Bank was established in 1891 as a mutually chartered bank. Pentucket Bank has no shareholders, pays no dividends and will not be sold. Pentucket Bank, with assets of approximately $644 million, offers six full service community banking offices; three in Haverhill, Massachusetts, one in North Andover, MA and one each in Hampstead and Salem, New Hampshire. Pentucket Bank was recently named one of the Boston Globe's Top Places to Work in Massachusetts for the fifth time. For more information, please visit us online at www.pentucketbank.com and "Like" us on Facebook, www.facebook.com/PentucketBank.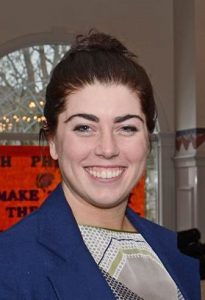 Patrice Darby, Teller, Merrimack Street Branch