L'Arche Boston North Announces new board leadership, Joseph W. Kennedy elected as board Chairman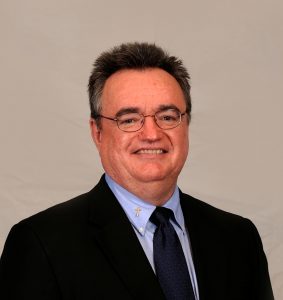 L'Arche Boston North is pleased to announce Joseph W. Kennedy as the new Chairman of the Board of Directors. Mr. Kennedy had previously served on the board as Treasurer of L'Arche Boston North since June 2014.
Mr. Kennedy is currently the Senior Vice President/Chief Financial Officer (CFO) at Georgetown Bank, Georgetown Massachusetts, where he has worked for the past 17 years. He has been in the banking industry north of Boston for over 29 years, with more than 27 years of experience as a CFO. He holds a B. S. in Accountancy from Bentley University and is a graduate of the National School of Banking, Fairfield, Connecticut. Mr. Kennedy has lived in Haverhill since 1986 and he and his wife Laurie have three sons.
Mr. Kennedy is an active volunteer. As a parishioner of Sacred Hearts Parish, Bradford, Massachusetts, he has been a catechist in the parish's religious education program for the past 17 years, a Eucharist Minister for the past 11 years, bringing communion to the homebound of the parish and was a member of the Parish Finance Council for 14 years. In 2010, Mr. Kennedy was awarded the Janie and Raymond Newman Service Award in recognition of his contributions to Sacred Hearts Parish. He is also a member of the Knights of Columbus Council No.5004, Groveland, MA. Mr. Kennedy currently serves as Treasurer of KidsFirst, a non-profit organization borne out of the belief that every child deserves an equal chance at a childhood full of love and happiness. KidsFirst is staffed by employees of the Georgetown Bank. Mr. Kennedy is also involved with prison ministry and is currently a volunteer at Old Colony Correctional Center, Bridgewater, Massachusetts.
"It's an exciting time for L'Arche Boston North. Joe brings a wealth of experience working with non-profit organizations," said Swanna Champlin, Executive Director at L'Arche Boston North, "his leadership will be invaluable in growing our community." Mr. Kennedy stated, "it is truly an honor to accept this position and I couldn't ask for a more worthy cause than to help spread the L'Arche values."
About L'Arche Boston North: L'Arche Boston North (founded as Irenicon in 1983) was founded by local families seeking to build an inclusive, faith-centered community for people with developmental disabilities. Today, we own four homes in Haverhill/Bradford providing home to 16 core members. L'Arche Boston North offers core members – regardless of intellectual ability—a community of faith and mutual relationship where each person is encouraged to develop talents, to create a home, to build friendships, and to make the most of life. Together with their live-in "assistants" (caregivers) they create a community of welcome and support for families and friends, neighbors, churches, and social service groups. L'Arche Boston North is a 501c3 nonprofit organization, governed by a board of directors and licensed by the Commonwealth of Massachusetts. Visit www.larchebostonnorth.org for more information.