Laila Jacqs Supper Club Presents Holiday Appetizer Party at Willow Springs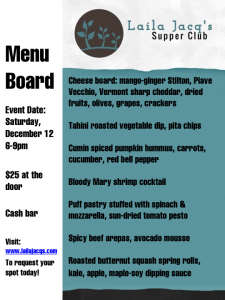 Laila Jacq's Supper Club is having its holiday appetizer party at Willow Springs Vineyards THIS Saturday night from 6-9pm.  This event is open to all and is only $25 at the door for a night full of delicious food!  Willow Springs will also be featuring a cash bar with expertly paired wine, beer and a holiday sangria.  Visit www.lailajacqs.com to let chef Laura know you are coming by choosing the "request a seat" tab.  We look forward to celebrating the holidays with our supper club friends!"
Laila Jacq's Supper Club is an underground "fine dining club" project launched by executive chef Laura Henry-Zoubir, a Food Network 2011 "Chopped" winner and her chef husband Abdelhadi Zoubir to elevate one's food experience options available in the greater Haverhill, Massachusetts area.
The pair of chefs believe that food should be fun, exciting and grown close to home. Laila Jacq's is constantly striving to further the local food movement and as a result, they only source the freshest of local ingredients to create beautifully plated, regionally inspired fare. Working with local farms and producers here in eastern and central Massachusetts, Laura and Abdul are inspired by our surroundings to create menus that will tantalize your taste buds and leave you with a feeling of accomplishment.  The menu offerings change monthly with the seasons to allow for a very creative food offering and show the bounty our 'backyard' has to offer.
Our concept is very unique, so allow us to indulge your inner foodie and join us for a night of wonderful food and fantastic company.