Jaffarian Volvo Wins 2016 Dealer of the Year Award in Massachusetts from DealerRater for Fourth Time
Distinction Awarded to Top-rated U.S. Dealerships for Online Customer Satisfaction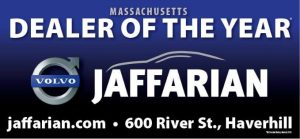 Jaffarian Volvo, a full-service, award-winning family-owned dealership, has been awarded a 2016 DealerRater Dealer of the Year Award in Massachusetts, an annual recognition given to the top-rated auto dealerships on DealerRater.com based on consumer reviews. The DealerRater Dealer of the Year Award is given to just a handful of dealers across the U.S. Jaffarian has earned this award four out of the last five years, winning in 2012, 2013, 2015 and 2016.
Jaffarian Volvo has received consistently high marks on DealerRater.com, making it one of the top U.S. dealerships on the site. The DealerRater Dealer of the Year Awards program was created to recognize automotive dealerships whose sales and service operations exemplify excellence. The extremely exclusive awards are given to U.S.-based dealerships for being the top-rated dealership within their OEM brand nationwide and the highest scoring dealers in each state.
"Congratulations to Jaffarian on being named a 2016 Dealer of the Year," said DealerRater CEO Gary Tucker. "Vehicle shoppers are increasingly reliant on the internet to research makes and models, features, specs, and more. DealerRater allows consumers to connect with the right dealership and the right person from which to purchase their next vehicle."
"DealerRater reviews speak volumes about customer satisfaction at a dealership. Jaffarian is highly regarded and we are honored to recognize the dealership with this distinction," Tucker continued.
"This is one of the most meaningful awards we receive because it reflects the level of excellence in service our customers experience at Jaffarian," said Gary Jaffarian, president and CEO, Jaffarian Volvo. "Setting a high standard in customer service is what our business was founded on more than 75 years ago by my grandparents and we work hard every day to ensure we not only honor that legacy, but strengthen it in all we do."

Dealer of the Year Award winners were chosen based upon their PowerScore™ ratings, which are determined using a Bayesian algorithm that factors the dealership's average DealerRater consumer ratings and the total number of reviews written about the dealership during the 2015 calendar year. DealerRater features more than 2 million consumer reviews of dealerships, which are read by more than 14 million car shoppers every month.
About DealerRater
Founded in 2002, DealerRater is the world's leading car dealer review website with more than two million service and sales reviews across 41,000 U.S. and Canadian dealerships, including a national network of more than 5,600 Certified Dealers. More than 14 million consumers read DealerRater content across the Web each month. By offering a product suite that allows qualified dealerships to manage reputation and achieve higher SEO rankings, DealerRater supports new customer connections by growing online presence.
DealerRater has received the Dealer Marketing Magazine Technology Leadership Award and the "Top Rated" Reputation Management Award for three consecutive years at the DrivingSales Dealer Satisfaction Awards. An October 2013 equity investment from Great Hill Partners, a Boston-based private equity firm, has allowed DealerRater to continue with a global expansion, accelerate product innovation and evaluate strategic acquisition opportunities. For more information, visit www.DealerRater.com or call 800-266-9455.
About Jaffarian Volvo Toyota
Founded in 1938 as a service station in Haverhill, Mass., Jaffarian Volvo Toyota is a fourth-generation, family-run company celebrating 75+ years in business. As a premier dealership serving communities north of Boston and in southern New Hampshire, Jaffarian offers customers the convenience of quality one-stop shopping for a new or pre-owned vehicle, routine or emergency service, accessories and parts, auto spa, and body shop work. What sets Jaffarian apart is its long-standing family tradition of putting customers first, helping them to make well-informed buying decisions and delivering excellence in customer service. Jaffarian consistently earns a 4.8 Dealer Rater customer rating and has received numerous customer-nominated awards, such as Volvo's MA Dealer of the Year (2012, 2013, 2015 and 2016), Toyota Parts & Service Excellence Award (2014) and Top Volvo Service Award for Northeast Region (2014). With a deep commitment to giving back, Jaffarian is a strong supporter of civic and community activities throughout the Merrimack Valley. For more information please visit www.jaffarian.com.