Hill View Montessori Charter Public School 2016 Fundraiser Auction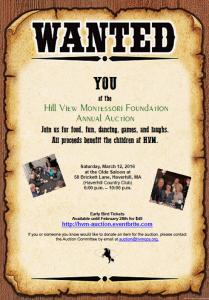 The Hill View Montessori Development Committee, along with staff of the school, request your participation in the 2016 HVM Fundraising Auction Event. The theme for this year's premier HVM fundraiser is "WANTED" (a Western theme), and the Auction Committee would like to cordially invite staff, parents and friends to join the fun!  
The event will take place on Saturday, March 12th from 6:00 to 10:00 PM at Haverhill Country Club. The evening will feature a cash bar, hors d'oeuvres, commemorative glasses, live and silent auction items, music, gaming tables and a few surprises! Ticket price is $45 per person ($50 after March 1, 2016) and includes admission and food.
Hill View Montessori Charter Public School, located in Haverhill Massachusetts, is a public charter school that provides urban students in grades K-8 with a tuition-free, public, Montessori education.
Montessori education offers students differentiated curriculum and instruction in multi-age classrooms (except a single-grade kindergarten). Learning is maximized by teaching to student's individual academic level and by leveraging each child's unique learning style. Classrooms are stocked with scientifically-designed Montessori manipulatives and resource materials to facilitate inquiry and provide a concrete understanding of abstract concepts. Hill View is committed to character education and integrates this into the Montessori classroom with ongoing lessons in grace, courtesy, respect and responsibility.