Community Action Hosts Community Forum on Adult Education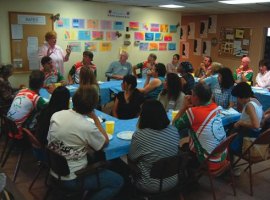 John Cuneo, Executive Director of Community Action, Inc. of Greater Haverhill, announced that CAI will host a forum on adult education on Friday, 2/13/15 from 10 AM to 12 PM at the Haverhill Public Library.
The forum will provide a vehicle to plan and improve services that will advance the economic status of low-income adult learners and therefore improve the economic status of the community as a whole.
Area businesses, nonprofit organizations and public officials are invited to participate in this forum. Mayor Jim Fiorentini will open the discussion. Other elected officials including Senator Kathleen O'Connor-Ives, Representative Brian Dempsey, Representative Diana DiZoglio and Representative Linda Dean Campbell have also been invited.
A presentation on the correlation between poverty and low literacy will be shown followed by discussions about available resources, services and gaps and how they affect businesses and the community in Haverhill.