CAREER RESOURCES AWARDED FUNDS FROM MERRIMACK VALLEY GENERAL FUND
Grant funds will support The Veterans Employment Program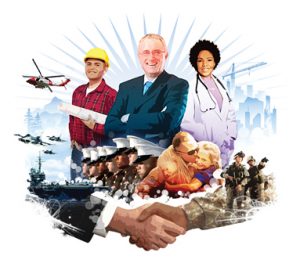 Career Resources Corporation has been awarded a $1,500 grant from the Merrimack Valley General Fund, a fund of the Essex County Community Foundation (ECCF). Career Resources will use the grant funds to support additional Veterans in their Veterans Employment Program.
The Merrimack Valley General Fund (MVGF) is a field of interest fund at ECCF serving agencies in the Eastern Merrimack Valley. The fund was established when the Merrimack Valley Community Foundation merged with ECCF in 2004. The MVGF funds programs serving the community in the areas of Arts and Culture, Education, Social and Community Services, and Youth Service.
"Since the beginning of the Veterans Employment Program we've had tremendous success serving over 60 Veterans. We are excited to be able to provide additional services to more Veterans of Career Resources. Creating new employment opportunities for our clients if core to our mission." Said CEO, Brad Howell.
We welcome anyone interested in hiring a Veteran to contact us today! For more details please visit our website, www.crc-mass.org or call 978-374-9122 to learn how you can be a part of Career Resources mission to erase limitations.
About ECCF: The mission of the Essex County Community Foundation is to promote local philanthropy to strengthen the nonprofit organizations of Essex County, MA. ECCF is a catalyst for philanthropy, manager of charitable funds for both donors and nonprofits, a grant maker, teacher and advisor to nonprofits and their boards and a bridge between donors and organizations matching those who want to give with those in need.  Learn more at www.eccf.org 
Since 1968, the non-profit Career Resources Corporation (CRC), has been assisting people with disabilities to live, work, and fully engage within their communities. Career Resources offers a wide range of support services to people with disabilities, including those with brain injuries and Veterans of the armed forces. With the most helpful and appropriate services available, across 4 programs, CRC provides opportunities for people to become participating, involved and valued members of their communities. Employment Services provides vocational training services, job placement, and ongoing job support in the Merrimack Valley. Day Services offers customized goal-oriented programs that promote independence and community membership. Shared Living and Adult Family Care are options for people who prefer to live at home supported by their families, or in a family environment. Community Living Services are group residences (24/7) to provide a healthy and supportive living environment.
# # #
If you would like more information about this topic, please contact Nicole Sammartino at 978-374-9122 x228 or email at Nsammartino@crc-mass.org.