Buttonwoods Museum hosts "Haverhill at Mid-Century" Exhibit Fundraiser
DON'T MISS THIS EVENT TOMORROW!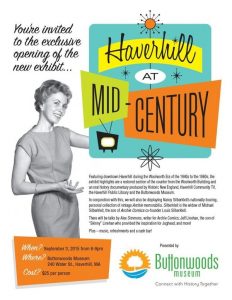 All are invited to the Private opening of the "Haverhill at Mid-Century" exhibit and fundraiser for the Buttonwoods Museum.
This exhibit features downtown Haverhill during the Woolworth Era of the 1940s to the 1960s, the highlights are a restored section of the counter from the Woolworth Building and an oral history documentary produced by Historic New England, Haverhill Community Television, the Haverhill Public Library and Buttonwoods Museum
In conjunction with this, Buttonwoods will also be displaying Nancy Silberkleit's nationally-touring, personal collection of vintage Archie memorabilia. Silberkleit is the widow of Michael Silberkleit, the son of Archie Commics co-founder Louis Silberkleit.
There will be talks by Alex Simmons, writer for Archie Comics; Jeff Linehan, the son of "Skinny" Linehan who provided the inspiration for Jughead; and more!
The event is on Thursday, September 3 at Buttonwoods Museum, 240 Water Street, Haverhill. Event time is from 6 to 9 PM and includes food, entertainment, and a cash bar. $25 per person.