Team Haverhill Announces River Ruckus 2016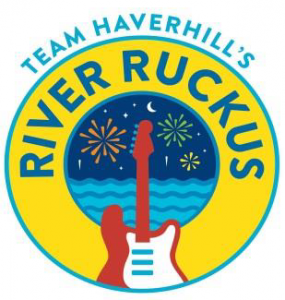 Team Haverhill announces River Ruckus 2016, a fun-filled, free, day-long festival on Saturday September 24, 2016, from noon to 8:30 p.m., at the Riverfront Cultural District. Team Haverhill's River Ruckus will feature a Classic Car show, live bands from The River 92.5, a Kids Zone, "A Taste of Haverhill," a Beer Garden with a choice of brews, and a spectacular firework show over the Merrimack River. The complete schedule is available at www.riverruckus.com. Team Haverhill's River Ruckus is sponsored by New York Life Insurance Company, Haverhill Bank, Pentucket Bank, the Greater Haverhill Foundation, MedExpress, Lowell Five, Creative Haverhill, and the Haverhill Rotary Club.
The day kicks off at noon with the Classic Car show on Washington Street in the heart of the Riverfront Cultural District. Classic cars, muscle cars, hot rods and specialty cars line up on Washington Street for three hours of viewing and chatting with their proud owners. Frank "I'm just alone for the ride" Novak from HC Media will present a commentary on each vehicle.
Next up on the Riverfront Stage is the pre-show "warm-up" with Zumba from the Haverhill YMCA at 12:15 p.m. With high energy music and professional instructors, Zumba is fun for the whole family. No experience necessary!
The Riverfront Stage is then transformed into a music venue, with a great lineup of live music programmed by The River 92.5 – featuring Gretchen & The Pickpockets, Seth Wonkka, Brian Byrd, Amy & The Engine, Ruby Rose Fox, and The Alternate Routes. Visit www.riverruckus.com for set times.
Children's activities include a bouncy house, arts and crafts, face painting, games and more. Satisfy all your food cravings at "A Taste of Haverhill" with delectable offerings from Casa Blanca Mexican Restaurant, Soulfire, Haverhill Beef, Hobbsies, Your Place and Ours, Kona Ice and Carter's Ice Cream. Our Harpoon Beer Garden will feature a tasty display of beers, including two new ones – Alloy Ale and Harpoon Sweet Spot. Beer Garden patrons can get a great view of the music while enjoying a libation.
The grand finale is a spectacular display of fireworks over the Merrimack River at 8:00 pm.
Save