Team Haverhill announces Harbor Place Time Capsule Project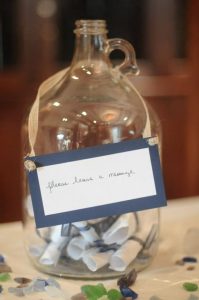 Merrimack Street Venture Properties, in partnership with Team Haverhill, announces the Harbor Place Time Capsule Project. Items proposed by Haverhill students, student-written messages, along with other entries voted on through an online poll, will be placed in the specially-forged time capsule and installed in Harbor Place. The time capsule dedication ceremony is scheduled for Wednesday, June 15, 2016 at 11 a.m. in the Pentucket Bank community room.
Team Haverhill members will meet with elementary, middle, and high school students to gather their suggestions of items to be placed in the time capsule. Each student will also write a "Message in a Bottle," addressed to Haverhill residents of the future. One letter from each participating school will be placed in a bottle inside the time capsule. The time capsule will be opened in 2041, twenty-five years after being placed.
Participants include Tilton second graders in Kerri Alves class, sixth grade students in Maria Godfrey's Hunking Middle School class, and Haverhill High School juniors in Jay Fiorentini's History of Haverhill class.
In addition to student contributions, Team Haverhill is also gathering suggestions of items particularly significant to today's Haverhill. Items must fit in the capsule, which is roughly 18 x 16 x 9 inches. Anyone who lives or works in the City of Haverhill should send their suggestions to Tim Jordan at tjjordan94@gmail.com. Team Haverhill will compile a list of top suggestions and the public will be invited to vote for their favorites on the Team Haverhill website and Facebook page after June 6, 2016.
For more information, please contact: Tim Jordan | Team Haverhill and Greater Haverhill Foundation Board Member | (978) 469-0652 | tjjordan94@gmail.com