Retailers Association of Massachusetts Launches #BuyInMA Campaign!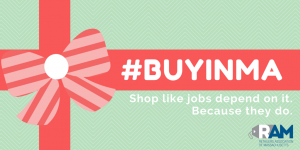 The Retailers Association of Massachusetts (RAM) recognizes that our consumers have unlimited options today for spending their discretionary income, and for making their gift giving purchases.  Whether it is a store in the next state, or from an international internet marketer accessible right on your smart phone, shoppers have all the tools today to find the lowest cost.
But while cost is important, there are other factors for consumers to consider before checking out at the cash register or closing out that online shopping cart.
Retailing in Massachusetts employs 600,000 people on our Main Streets and in commercial centers across the state.  It is easy to take those sellers and their high levels of service for granted, as merchants have always been a vital part of our history.  From the days of Merchants Row in Boston beginning in the 17th Century, to hundreds of years of vibrant Main Streets across the Commonwealth, the retail sector has always been the backbone of our communities and our economy.
Today we can no longer take those stores and those jobs for granted due to the unlimited options and the low cost of technology competition.  Everyone wants to see their Main Streets survive and prosper; and everyone wants to see plentiful jobs and sufficient sales tax and commercial property tax revenue to fund our vital public services.
But for those local retail stores to survive, those jobs to remain, and for the public funding to continue, we must all recognize that where we spend our discretionary dollars makes a real difference in a time when 70% of our economy is driven by consumer spending.
For those reasons, RAM is working this holiday season to remind our consumers that where and how we spend our money is truly important.  Through a combination of a social media and paid media campaigns, consumers are being urged to #BuyInMA because local jobs depend on it.  One of the best holiday seasons in memory may be on tap based upon recent sales, our RAM member sales survey (which projects a 6.5% increase over '14), and the highest level of local consumer confidence recorded in over two decades.