Holy Family Hospital a Proud Sponsor of the 2015 Boston Go Red for Women Education Forum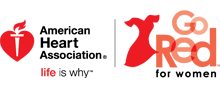 Holy Family Hospital is a proud sponsor of the American Heart Association's Go Red for Women Luncheon and Educational Forum which will be held at the Boston Sheraton on March 12, 2015.
For more than a decade the Go Red for Women movement has led the fight to protect women from heart disease through research and education.
"The leading causes of death in women are heart disease and stroke. Research revealed the symptoms women experience during a heart attack can be very different from the symptoms men experience, and education about those differences has helped save lives," said hospital President Joseph Roach. "We are pleased to support this event because research and education help increase survival rates and improve quality of life."
According to the American Heart Association, 64 percent of women who die suddenly of coronary heart disease had no previous symptoms, and the symptoms women experience are often different from the classic symptom of extreme chest pain and pressure that men experience.
Women can experience shortness of breath with or without chest pain, nausea and vomiting, back or jaw pain, as well as dizziness, lightheadedness, fainting, pain in the lower chest or upper abdomen and extreme fatigue.
Holy Family Hospital's award winning Center for Cardiac and Vascular Care offers high quality cardiac care with advanced diagnostic and treatment options for a wide range of cardiac and vascular conditions, including coronary artery disease, congestive heart failure, arrhythmia, peripheral vascular disease and stroke. We have a state-of-the art cardiac catheterization lab, a cardiac rehabilitation program that earned accreditation by the American Association of Cardiovascular and Pulmonary Rehabilitation, and we have a certified stroke program.
The Chairperson for the 2015 Boston Go Red for Women event is Georgann Bruski, Steward Health Care System Vice President of Cardiology and Diagnostic Imaging.